'Strike season' comes to South Africa
In what has become an annual event, South African unions are set to strike for better wages. While the unions claim wage hikes will reduce inequality, critics say they cause youth unemployment.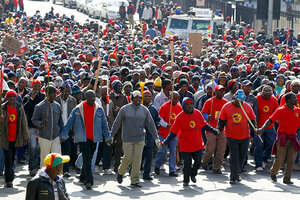 Siphiwe Sibeko/Reuters
South Africa's powerful trade unions are gearing up this week for what in common parlance has become known as strike season – the annual mid-year period of wage negotiations that invariably lead to wage disputes, strike action, and often, deep public irritation.
This week, South Africa's National Union of Mineworkers declared formal wage disputes with several platinum, diamond, and coal mining companies. The declaration of a formal wage dispute is a precursor to strike action.
Strike season has become such a common occurrence in South African society that many South Africans compare the strikes of each year in the same way that New Yorkers compare years of heavy snowfall. Last year, just weeks before the World Cup tournament, municipal workers and teachers went on strike, closing schools and leaving garbage bags piled up on residential streets for weeks. Today, with workers from manufacturing and petro-chemicals industries already embarked on strikes, 2011 has all the makings of a memorable year.
The effects of a hard strike season go beyond the usual shortages of fuel at petrol stations or the piling up of garbage; they go into the politics of who rules South Africa, and the future economic competitiveness of a developing country that desperately wants to attract foreign capital and create new jobs. And in a society with one of the widest disparities between rich and poor, labor strikes can also be a gauge of public discontent for the poor majority.
"Trade unions, by elevating wages and keeping older people in jobs, prevent youngsters from joining the workforce, so youth unemployment is largely a creation of the trade unions in South Africa," said labor analyst Loane Sharp, in an interview on Summit TV. In global terms, South Africa ranks poorly in labor-market efficiency, Mr. Sharp added. According to the Global Competitive Index, South Africa ranks 97th out of the 139 countries surveyed.
---