Malawi riots spread as president blames Britain, IMF for economic woes
President Mutharika says that opposition and civil society groups that led protests over Malawi's deepening economic troubles are behind the violence that left at least 10 dead.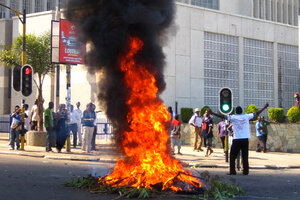 Diane Boles/AP
As riots across Malawi continued for a second day, Malawian President Bingu wa Mutharika blamed opposition demonstrators for igniting violence that has left at least 10 dead and 45 injured.
But opposition leaders say demonstrations yesterday against fuel shortages and currency controls were peaceful and did not spark today's widespread looting, rioting, and running battles with police.
Ministry of Health spokesman Henry Chimbali confirmed that eight people died from injuries of various degrees at Mzuzu Central Hospital. One was brought at the hospital already dead. Although there have been reports that many of the dead were shot with live ammunition, Mr. Chimbali did not confirm that fatalities were caused by gunshot wounds.
Trading blame for the violence
The protest organizers distanced themselves from incidents of looting, saying that their members were peacefully demonstrating yesterday.
"We urge those that are still in the streets and looting to refrain from this unlawful act," civil society groups said in a communiqué obtained by reporters. "Doing so is against the laws of Malawi. Take note that all the concerns that were presented to the President through the laid channels of communications."
Mr. Mutharika, however, pinned full blame for the riots on civil society leaders.
"They are telling vendors to loot businesses," Mutharika said in a 10-minute speech on state television this afternoon. "Is this going to bring fuel in the country? Will looting solve the problem of [poor foreign exchange rates]? I ask the civil society and opposition leaders to come to the round table for discussions. Violence will only destroy the gains that we have managed to realize over the years."
In his address to the nation, Mutharika said that his government would do anything to protect the lives of Malawians and their property as enshrined in the Constitution.
---