International groups accelerate effort to relieve East Africa's famine
The first UN plane in two years is scheduled to go into the Somali capital's airport Wednesday carrying food aid. Some 3.7 million people in Somalia alone need help.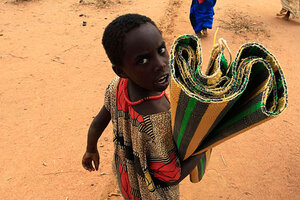 Thomas Mukoya/Reuters
The first in a series of food flights is due to land in Somalia's capital late Wednesday, bringing 10 tons of supplies specially formulated to save children from starving to death. The airlift is one of several signs of an acceleration in the international relief effort to help people suffering after two years of drought spread across southern Somalia, eastern Ethiopia, and northern Kenya.
The chartered aircraft will be the first United Nations plane into Mogadishu's international airport since Islamists banned the organization from working there two years ago. It is loaded with Plumpy'nut, a patented high-nutrition, peanut-based paste designed to help children so malnourished that it is often too late for ordinary food to make any difference.
More than 2.3 million children under age 5 – and another 9 million-plus east Africans – are in urgent need of food and water as two years of drought has killed off their livestock and left them unable to cope.
After three weeks of daily appeals for help, the United Nations said on Wednesday that $800 million had been pledged for its Horn of Africa crisis fund. But that still leaves more than $1.1 billion needed, according to figures from the UN's Office for the Coordination of Humanitarian Affairs.
---