US plans more aid for Somalia famine as Jill Biden visits refugee camp
Jill Biden visited Somalia famine refugees in Kenya today. The total aid pledged to the Horn of Africa's humanitarian crisis still falls very short of the $2.5 billion that the UN says is needed.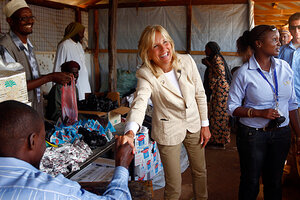 Jerome Delay/AP
The US is expected to announce an extra $95 million in urgent US aid to help victims of the famine plaguing the Horn of Africa, as aid groups sound the alarm that they are still far short of what they need to address the humanitarian crisis spanning Somalia, Ethiopia, and Kenya.
More than 12.5 million people in the region need urgent food aid to survive until the next rains, which are due in November and are predicted to be below average once again. A little more than half of the $2.5 billion the United Nations says is required to respond to that need has so far been pledged.
The US is the largest donor to the UN's Horn of Africa appeal, committing $58 million before President Obama announced the newest pledge.
Today Jill Biden, Vice President Joe Biden's wife, visited Dagahaley refugee camp, one of four camps that have sprung up in the Kenyan town of Dadaab. Together they are now hosting 440,000 Somalis fleeing famine and war in their country.
The refugee camps surrounding the town sit on a flat, sandy plain where the only green left is that of leaves on poisonous trees. Make-shift shelters made of rags and plastic stretched over domes of twigs lie behind thorn-bush fences that catch trash blown about by the constant hot wind.
People queue for water, if they have been registered as refugees. Others, newly arrived, squat in the meagre shade of acacia trees waiting for aid workers to give them emergency rations.
---