Somalia famine could cause militant Al Shabab group to splinter
The Somalia famine has exacerbated divisions within the Islamist militant group Al Shabab, whose more pragmatic leaders want to allow Western food aid into the areas they control.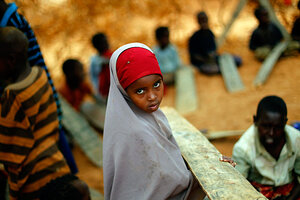 Jerome Delay/AP
The unity that allowed the militant Islamist group Al Shabab to gain control of wide swaths of Somalia is in danger of breaking down amid widening famine and the recent loss of key bases in Mogadishu, the capital.
The hunger crisis plaguing southern Somalia is hitting rural areas hardest, where the insurgents drew their greatest support.
Those areas are largely run by moderates who are keener on letting Western food aid into their areas because they are seeing the most casualties from the famine and feeling more pressure from the local communities in which they live, says Rashid Abdi, a Somalia expert at the International Crisis Group in Nairobi.
If they were to split away from the smaller rump of global jihadists – Al Shabab's most radical commanders – that could loosen the group's stranglehold on Somalia.
That coupled with a serious loss of revenue from major sections of the capital city that the group has lost control of means "the writing may be on the wall for Al Shabab," says Mr. Abdi of the International Crisis Group. "There has always been a split among their leaders, and it's definitely been made worse by the famine situation."
But the potential split, while weakening Al Shabab, could also make its tactics less predictable. Analysts have expressed concerns of a new, more deadly guerrilla warfare as the front lines become blurred.
A 'change in tactics'
---