Will Africa miss Qaddafi?
Even with Muammar Qaddafi's deep financial ties across Africa, many of the continent's leaders are ambivalent about his departure.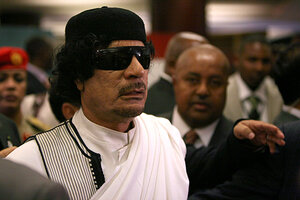 Irada Humbatova/Reuters/File
As the single-largest contributor to the budget of the African Union, a prime aid donor for poor African countries, and a dependable advocate for pan-African cooperation, Libyan leader Muammar Qaddafi is a man whose impact reaches far beyond his country's borders.
That impact is sometimes good, as when he funds hospital or road projects, or when his estimated 15 percent contribution of the AU's budget allows the AU to send peacekeepers to Somalia, Darfur, and the Democratic Republic of Congo. And it can be bad, when he buys weapons for rebel groups to destabilize his neighbors like Sudan and Chad.
Small wonder, then, that African leaders are reacting to Qaddafi's imminent overthrow this week with a certain ambivalence.
"A lot of people took his money while not liking him, and being uneasy about him," says Richard Moncrieff, a senior research fellow at the South African Institute for International Affairs in Johannesburg.
---