Senior Zimbabwe leader's death could spark infighting
Some speculate that the death of retired Zimbabwe army Gen. Solomon Mujuru in a fire was no accident, but rather a political 'hit' due to his willingness to challenge President Robert Mugabe.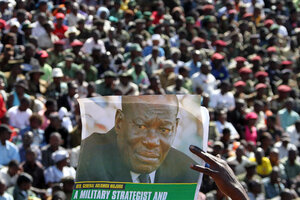 Tsvangirayi Mukwazhi/AP
The death of Zimbabwe's retired Gen. Solomon Mujuru, widely regarded as the kingmaker in the former ruling party Zanu PF and a potential successor to President Robert Mugabe, has changed the political landscape in the troubled southern African country.
General Mujuru, husband of Vice President Joice Mujuru, was a senior behind-the-scenes leader for politically connected officers in Zimbabwe's army, and a fierce rival of defense minister and former intelligence chief Emerson Mnangagwa, who now appears to have an upper hand in succeeding the aging President Mugabe.
Mugabe's Zanu PF party has ruled Zimbabwe since 1980, when the white minority leadership of a country then named Rhodesia lost elections to Mr. Mugabe's black majority party.
Mugabe's rule is credited with wholescale reform of the education system, making Zimbabwe one of the most literate countries in Africa, but also condemned for its disastrous economic policy of business and agricultural expropriation, which have made Zimbabweans among the continent's poorest citizens.
---