New rules needed for African farm investments, Oxfam report says
The Oxfam report says private investments in Africa have forced tens of thousands from their lands, taken land out of production, and reduced food security, especially as investors focus on bio-fuels.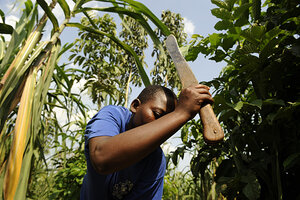 Mary Knox Merrill/The Christian Science Monitor/File
Boston and Kampala, Uganda
On the surface, foreign investment in African agriculture would seem to be a great idea, helping countries to learn new techniques and to generate more jobs.
But a new report by the aid group Oxfam finds that much foreign investment actually hurts developing economies, taking fertile land out of production, weakening a country's ability to feed itself, and displacing tens of thousands of citizens with no recourse or compensation.
In one deal alone, in the highlands of Uganda, more than 20,000 villagers were forced to move out, the report details.
"Our food supply system is broken, and it needs a radical fix," says Ray Offenheiser, president of Oxfam America, in a recent interview in Boston. "After riots broke out in the capitals of 35 countries in Africa, we started tracking the land issue. We tracked 110 million hectares of land, leased or purchased, in 1,200 transactions, which is an area equal in size to all of Western Europe."
What Oxfam found was a pattern of "land grabs," in which land was sold or leased in private deals to foreign investors at preferential terms, with local citizens paying a heavy price in terms of livelihoods and food security.
"Seventy five percent of the deals happened in Africa, a lot of them involved displacement, there was not a lot of transparency, government policies seemed to favor the investors," says Mr. Offenheiser. "Our interest is not to discourage investment in agriculture, but to create a framework for reasonably ethical practices for foreign investors."
---