Zambia's fiery populist, Michael Sata, wins presidential election
Will Zambia's newly-elected Michael Sata follow through on past rhetoric against foreign investment or will he continue his predecessors' business-friendly policies?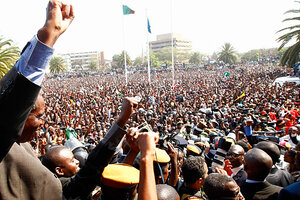 Jerome Delay/AP
Zambia's new president Michael Sata is known for his fiery speeches, his harsh criticism of Chinese investment in the Zambian copper mining industry, and his fondness for the governing philosophy of Zimbabwean President Robert Mugabe. But in his first major statement since being declared the winner of this week's presidential elections, the opposition leader struck a gentler line, albeit a still skeptical one.
"The rule of law and justice will be the cornerstone of my rule. I hope investors will abide by Zambia's labour laws." Mr. Sata said Friday at his inauguration ceremony at the Supreme Court in Lusaka on Friday. However, he also acknowledged that foreign investment is key to Zambia's future growth and promised that his government would continue to partner with foreign investors during his term in office.
Despite his reassurances, markets were rocked by the announcement. Investors began selling off Zambian currency, the kwacha, signaling nervousness that Zambia would become a riskier investment climate under the populist president with strong opinions on foreign investment. In Chingola, a city in Zambia's northern Copperbelt region, Indian and Chinese businessmen closed their shops, a sign of concern that Sata's victory might encourage his supporters to riot and loot shops.
---