Dalai Lama cancels South Africa trip. Did China trade ties get in the way?
The Dalai Lama said he was forced to cancel a trip to South Africa due to visa delays. Critics say it's a foreign policy embarrassment.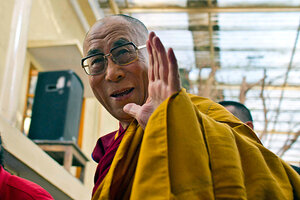 Ashwini Bhatia/AP
Tibet's spiritual leader, the Dalai Lama – who won a Nobel Peace Prize for his nonviolent political and spiritual guidance of the Tibetan people from his government in exile – has canceled a trip to South Africa, saying the South African government didn't issue him a visa.
The Dalai Lama had been invited by fellow Nobel laureate Archbishop Desmond Tutu to attend Mr. Tutu's 80th birthday celebrations, but the South African government failed to issue him a visa after several weeks of delays. The cancellation is seen by political observers as a sharp embarrassment for the South African government, which refused to issue a visa to the Dalai Lama last year.
Steven Friedman, a political analyst and director of the University of Johannesburg's Center for the Study of Democracy, says that South Africa's delay in issuing a visa was part of the government's growing desire to cultivate relations with China, which has controlled Tibet since invading that country in 1959.
"I think it's a source of international embarrassment," says Mr. Friedman. "South Africa identifies itself more as a partner of BRICS" – the grouping of Brazil, Russia, India, China, and now South Africa – "but that is now being taken to absurd levels, and they're behaving as if being a member of BRICS means you have to do what other members of BRICS tell you. I don't think that idea would occur to Russia or China, but somehow it's what we're doing."
---