Liberian women pray as the nation heads to the polls
Buffeted by years of civil war, Liberian women – led by newly named Nobel Peace Prize laureate Leymah Gbowee – are praying for a peaceful and successful Oct. 11 election, and hoping that fire-mouthed politicians don't drag their country back to war.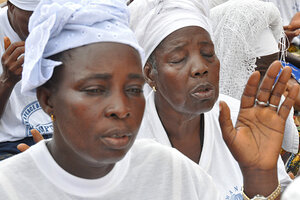 Clair MacDougall
In the middle of a sandy soccer field in the Monrovia neighborhood of Sinkor, over 100 women dressed in white sit in the shape of a crucifix hoping to draw God's eyes down towards the small West African nation of Liberia. They are praying the nation's elections to be held this month will be peaceful.
As cars zoom past on the facing road, opposite President Ellen Johnson Sirleaf's house, the prayers of the women take to the wind – relived traumas from the nation's bloody civil war that ended seven years ago and pleas for God's mercy, mixed with prayers for the future.
"Please Papa, I beg you," says one woman. "We have nowhere to go," repeats another with closed eyes. Some women weep as they mouth the outlines of a prayer.
Clouds gather and rain begins to pelt down but the women wrap cloth around their shoulders and faces, place plastic bags on their heads, and continue to call out to God. Many of them endured worse conditions and even slept out in the open field, back when they first formed a women's movement and prayed for Charles Taylor and the warlords to end Liberia's bloody 14-year civil war that left over 250,000 people dead and the nation's infrastructure in tatters.
Bernice Freeman, a senior member of the Women in Peace Building Network, the organization behind the prayers, says the women are praying because they were concerned about some of the statements made by political leaders in the lead up to the lead up to the presidential, legislative, and senate elections all to be held on Oct. 11.
"We are praying because the utterances coming from the political parties are worrisome," says Ms. Freeman. "Someone has said that they will not listen to the election commission results and the verdict of the international community… it is worrisome… that you say your own results."
---