Zambia gets its first white vice president since independence in 1964
The decision by Zambian President Michael Sata to appoint a white Zambian politician, Guy Scott, sends reassuring signals to Zambians that their country has moved beyond post-colonial anger.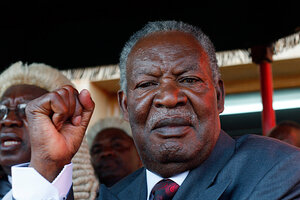 Jerome Delay/AP/File
Zambia has a white vice president for the first time since the country gained independence from Britain 47 years ago.
The Sept. 29 appointment of Dr. Guy Scott by newly elected President Michael Sata has powerful symbolic value in post-colonial Africa, a sign of how Zambia has moved beyond the divisive racial politics that has dominated the continent for five decades. Other decisions taken by Mr. Sata in the past week are a hint that Sata's regime is likely to blend populist gestures and moderate policies in ways aimed at satisfying frustrated voters without scaring off foreign investors.
Tinashe Nyastianu, a former chairman of the Zimbabwean opposition party Movement for Democratic Change (MDC) youth wing, commends Sata for choosing a white vice president.
"It is good to have many ethnic groups living and working together in your country because it brings prosperity. Sata knows it will serve Zambia well internationally because he has shown that he does not hold grudges against colonial masters," says Nyastianu, who fled Zimbabwe after repeated physical assaults by the police forces loyal to Zimbabwean President Robert Mugabe.
"This is contrary to what is happening in my country [Zimbabwe]," adds Mr. Nyastianu, who now lives and works in Chingola. "Mugabe does not want to share power. He controls everything just to promote his political interests. If you ask Zimbabweans whether they support his racial policies, especially the land grabbing policy, they will tell you they don't. But they cannot do anything about it because that man is a dictator and has no regard for other races and fellow Zimbabweans."
---