Sirleaf leads Liberian presidential vote, but a second round looms
Nobel Peace Prizewinner Ellen Johnson Sirleaf has 44.5 percent of the Liberian presidential vote so far: not enough to avoid a second round, where former warlord Prince Johnson may be 'kingmaker.'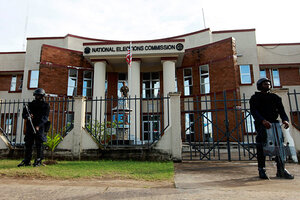 Luc Gnago/Reuters
President Ellen Johnson Sirleaf posted a major lead ahead of the opposition in preliminary election results released yesterday, but analysts say that it will not be enough for the Nobel Peace Prizewinning incumbent to deliver on her promise of a first-round victory.
Armored riot police guarded the National Electoral Commission (NEC) headquarters in Monrovia yesterday afternoon as NEC chairman James Fromayan announced the preliminary results. But the streets remained calm even as results failed to point to a clear victory by either the ruling Unity Party or the major opposition party the Congress for Democratic Change (CDC), led by the Harvard-educated former Justice Minister Winston Tubman and soccer legend George Weah, who ran against Ms. Sirleaf in the 2005 elections.
Sirleaf and her running mate, the current vice president Joseph Nyema Boakai, took 44.5 percent of the vote and an 18 percent lead over Mr. Tubman and Mr. Weah. Former warlord and current Sen. Prince Johnson – best known around the globe for the key role he played Liberia's first civil war, including capturing and killing former President Samuel Doe, and his battles with Charles Taylor's National Patriotic Front of Liberia (NPFL) – took 13.5 percent of the vote.
---