Nobel Peace Prize winner Leymah Gbowee: Liberia is progressing, but still divided
Liberian peace activist and Nobel Peace Prize winner Leymah Gbowee praises Liberia for how far it has come since the civil war days of a decade ago, but warns that tribalism still divides her country.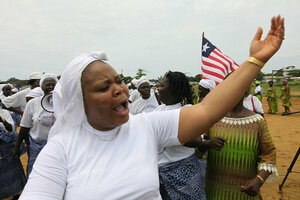 Luc Gnago/Reuters
Liberian peace activist Leymah Gbowee was half asleep on a "red eye" flight from New York to San Francisco finishing off her book tour when she found out that she had won the Nobel Peace Prize. Her phone beeped and she looked down to see a text message that read: "Nobel. Nobel. Nobel"
"I turned to the man next to me and said: 'Sir, I think I just won the Nobel Peace Prize!'" she says with eyebrows arched and eyes widened as she recounts the moment. "He said 'really?' but didn't seem convinced."
A man sitting in front of them pulled out his Blackberry, pulled up the home page of The New York Times website and said, "Yes, she's right," says Ms. Gbowee.
"By that time the tears were coming and I was hugging all of these white men on the flight."
Winning the Nobel Peace Prize was a crowning achievement for Gbowee, but the peace activist is no stranger to accolades, having received many for her women's activism work in Liberia and West Africa, and the women's peace movement she spearheaded that played a role in bringing to an end the bloody civil war that killed over 200,000 people.
While Liberia has enjoyed peace since the end of the war in 2003 and is heading into the run off of its second democratic elections, Gbowee says the nation is still divided and has not yet reconciled with the trauma of the past and that people are just "learning to live again."
---