Mugabe grilled in South African chicken ad
A satirical ad by Nando's Chicken poked fun at Zimbabwe President Mugabe. His supporters were not amused.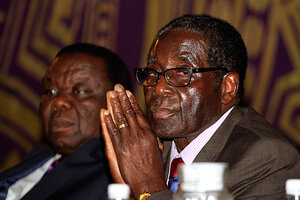 Philimon Bulawayo/Reuters
Those were the days, Mr. Mugabe.
A South African satirical television commercial, for the Nando's Chicken restaurants, has captured the South African imagination, depicting Zimbabwe President Robert Mugabe's difficulty in coming up with enough dictators to come to a Christmas Party this festive season.
Called "The Last Dictator Standing," (attached at the bottom of this article) the commercial imagines Mugabe and Muammar Qaddafi having a watergun fight; Mao Zedong and Mugabe singing karaoke; Saddam Hussein and Mugabe making snow angels, in the sand, in their boxer shorts; Mugabe and Idi Amin mimicking that front-of-the Titanic "flying" scene aboard a tank; and most improbably of all, Mugabe pushing apartheid defender P.W. Botha in a swing.
Alas, whether by NATO bombs or natural causes, all are now dead. It's going to be a lonely Christmas.
Though quite popular – the commercial went viral on youtube – Nando's has since withdrawn the commercial, citing physical threats to staff and customers at the Nando's fanchises inside Zimbabwe. Apparently, youth members of Mugabe's ZANU-PF party had begun to protest outside Nando's chain stores in Harare and elsewhere in the country.
---