While a deal sets up new climate talks, scientists help Africans adapt now
Delegates in Durban, South Africa struck a deal to seek a new climate change treaty. Meanwhile, less-contentious projects like a famine early warning system help now.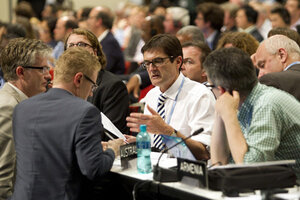 Rogan Ward/Reuters
Johannesburg, South Africa
As the world enters a new phase of politically-charged climate talks, some scientists have focused on less-contentious projects like a famine early warning system that can help poor nations adapt to the planet's changes.
Negotiators from around the globe reached agreement today in Durban, South Africa on a way forward in the effort to curb greenhouse gas emissions. The deal extends the emissions targets set under the 1997 Kyoto Protocol and calls for a new round of negotiations to hammer out a replacement treaty, one that would aim to legally bind the US and fast-developing nations like China and India to meet emission cuts pledges.
But the new round of talks could take several years, followed by years more of ratification efforts. In the meantime, vulnerable populations in Africa and elsewhere may benefit more immediately from strategies to adapt to climate change.
For centuries, the patterns of rainfall and of the seasons have defined where people live on the continent and the security of their food supply These age-old ways are changing rapidly, leading to drought and famine. The most recent example is the ongoing food shortage in Somalia which many observers have described as Africa's worst food security crisis in two decades.
Tens of thousands of people have lost their lives, and the situation remains serious. However, a project known as FEWS-NET, or the Famine Early Warning Systems Network, gave advance warning of the looming food crisis, and ensured that thousands of other lives were saved.
---