UN chief visits a safer Somali capital
In the first visit of a UN Secretary General since 1993, Ban Ki-moon promised aid and military support, but warned Somali leaders they must stick to reform pledges.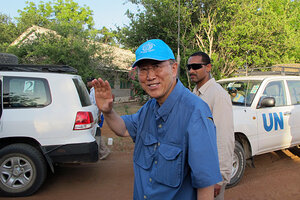 Katharine Houreld/AP
The last time a United Nations Secretary-General was in Somalia's capital, almost two decades ago, protestors blocked roads with burning tyres and brandished cow skulls to show their outrage.
That was in 1993, in the depths of the country's civil war, when US forces were withdrawing after the disastrous Black Hawk Down mission and the UN and its 28,000 troops were reviled in Mogadishu.
Eighteen years later, UN Secretary General Ban Ki-moon found an altogether warmer welcome during his surprise visit there last week. Security officials still insisted that he wear a bulletproof vest, and he was sped through the city's wrecked streets in a convoy of armored personnel carriers.
But the mere fact that such a high-profile figure was able to visit what is still considered the world's most dangerous capital is testament to what one analyst called the "dramatic improvements" in security there in recent months.
Al-Qaeda-linked Islamist insurgents are on the run, pushed out of their long-held positions in the city, and squeezed by fresh Kenyan and Ethiopian offensives in the countryside.
The country's famine situation, although still dire with a quarter of a million people facing imminent starvation, is slowly improving, thanks to a massive international aid response during the last six months.
Pirate attacks off Somalia's coast dropped by two-thirds in November compared to the same month last year, European naval officials reported last week.
---