Nigeria dispatches troops to north to stop Boko Haram attacks
The Christmas Day attack on a church is only the latest in string of attacks by the militant Islamist group Boko Haram, who has given Christians living in the north three days to leave the region.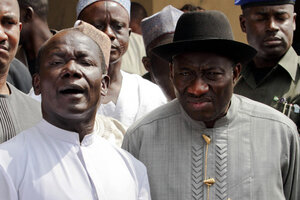 Afolabi Sotunde/Reuters
Nigeria has sent government troops to the country's troubled northern areas, where a radical Islamist group has launched a string of attacks on Christians, most recently a Christmas Day church bombing in the capital of Abuja that killed 43 people.
President Goodluck Jonathan declared a state of emergency in the north, and sent two brigades of soldiers to towns that have been targeted by Boko Haram, whose name means "Western education is a sin."
Abdul Qaqa, who claims to speak for Boko Haram, gave Christians in the north three days to leave, and urged Muslims living in the south to move up north. Nigeria's north is predominantly Muslim, while the south is mostly Christian.
"We find it pertinent to state that soldiers will only kill innocent Muslims in the local government areas where the state of emergency was declared. We would confront them squarely to protect our brothers. We also wish to call on our fellow Muslims to come back to the North because we have evidence that they would be attacked. We are also giving a three-day ultimatum to the Southerners living in the Northern part of Nigeria to move away," [Abdul Qaqa was quoted as saying by the Nigerian newspaper This Day].
---