Nigerians feel pinch as fuel strikes take a toll
Nigerian President Goodluck Jonathan has drawn praise from economists for cutting a costly fuel national subsidy, but citizens have responded with rolling strikes that have shut down cities around the country.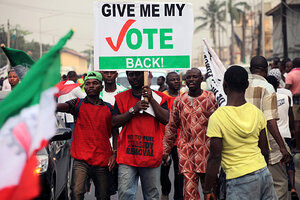 Akintunde Akinleye/Reuters
Folenke's food shop, in the heart of Lagos, is nearly empty because she can't afford to go to the wholesale market to restock the bare shelves.
Tarek Shams, station manager for Egyptian Air at the Murtala Mohammed International Airport, looked shell-shocked as he tried to explain to angry passengers why he had already decided to cancel the flight out of Lagos on Tuesday.
"I can not face tomorrow what I faced today," he said, explaining that his workers had to have an armed police escort to deliver fuel to the one Egyptian Air flight that landed and departed Lagos on Monday. As the airline workers were transferring fuel, Mr. Shams said, they were greeted by union protesters burning debris in the road. He said union people came to him and told him he should stand with them and not fly today. Domestic flights were cancelled and other airlines such as KLM canceled their Monday evening flights out of Lagos.
Welcome to the brave new world of Nigerian shock-therapy economics. On Jan. 1, the Nigerian government decided to remove fuel subsidies, with President Goodluck Jonathan calling them a "cancer" on the Nigerian economy -- preventing government from spending in other areas, such as building roads, maintaining schools, and keeping the electric power supply running. Economists such as the International Monetary Fund's Christine Lagarde and Harvard economist Jeffrey Sachs have praised the move, but citizens have reacted with a mixture of anger and bewilderment. A series of rolling strikes started Monday, shutting whole cities around the country.
---