Stampede at university highlights South Africa's education shortage
A late application period at the University of Johannesburg led to a stampede that killed one and injured 22. Critics say South Africa doesn't provide as much access to higher education as it promises.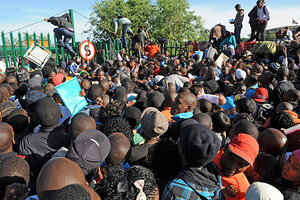 Adrian de Kock/Reuters
When prospective university applicants stampeded the gates of the University of Johannesburg – killing one applicant's mother and injuring dozens in the process – they sent a signal to the world about the lack of opportunity in South Africa's higher education system.
The incident would have been horrifying under any circumstances, but coming as it did during the 100-year anniversary celebrations of the ruling African National Congress, it showed that higher education remains a very limited prospect for young South Africans, and one for which people will go to desperate lengths to achieve.
Nearly 11,000 applicants showed up to vie for 800 spots available at the University of Johannesburg. Some had camped out in line since 1 a.m. to ensure that their applications would be received – the mail isn't very reliable and few have access to the Internet. And when the gates opened at 7:30 a.m. on Tuesday, policemen and university officials were unable to safely control the flow of students attempting to get their applications in first.
University of Johannesburg Vice Chancellor Ihron Rensburg told reporters that the university had decided to reopen the application process for a day in order to ensure black students had access to higher education. But the crowd control system failed.
---