Famed author Chinua Achebe on the Occupy Nigeria strikes
In an interview with The Christian Science Monitor, Nigerian author Chinua Achebe supports fuel-subsidy protests and says that Nigeria's unrest can be eased by better, less-corrupt leaders.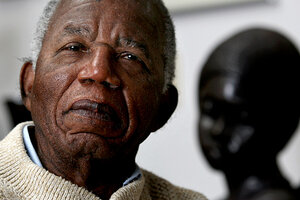 Craig Ruttle/AP
In an interview, Nigeria's premier novelist Chinua Achebe says that corruption is the root of the current fuel-strikes crisis, and that the only way to set Nigeria on a democratic path is for Nigerians to select better leaders, and to punish those who "steal from the state."
Professor Chinua Achebe currently teaches at Brown University as the David and Marianna Fisher University Professor and Professor of Africana Studies. He is the author of the globally acclaimed novels ''Things Fall Apart'', "A Man of the People"," Arrow of God" and "Anthills of the Savannah". He has also published collections of poetry, literary criticism and children's books. In 2007 he received the Man Booker international prize for his body of work from England, and more recently the 2010 Gish Prize. His new book a semi-autobiographical work called "There was a country: A personal history of Biafra" will be available from Penguin in September 2012.
Question: In your 1960 novel, "No Longer at Ease," you write about the coming problem of official corruption in Nigerian society, told through the rise and fall of your main character Obi. What do you think are the roots of corruption in Nigerian society – colonial legacy, corporate power, local business elites – and what will it take to uproot it?
---