Nigeria closes its borders amid unrest from Islamists, strikers
Nigeria's president met with security chiefs to discuss Islamist group Boko Haram, while Nobel prize winner Wole Soyinka warned his country may be heading toward civil war.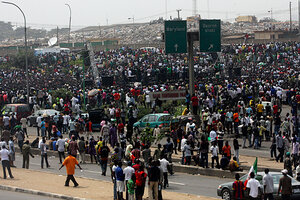 Sunday Alamba/AP
Nigeria has closed its borders, as the United Nations shares a report warning that Nigeria's Islamist militant group, Boko Haram, may have established links with the north African affiliate of Al Qaeda. The border closures are designed to prevent infiltration by such groups.
Boko Haram, whose name means "Western education is a sin," reportedly aims to "abolish the secular system and establish an Islamic state" in Nigeria's mainly Muslim north, and has been blamed in the deaths of 510 people in the past year. Its techniques have largely been of an unsophisticated sort, with gunmen spraying gunfire into crowded areas such as Christian churches and businesses. But it has shown increasing sophistication with car bomb attacks on the nation's capital of Abuja and the use of suicide bombers.
On Tuesday night, gunmen opened fire on customers at a local beer hall in the town of Potiskum in Yobe state, killing eight civilians and four policemen.
Tension in Nigeria – Africa's largest oil exporter – has been felt far outside its borders, as the violence and an ongoing series of protest strikes contributed to the rise of crude oil prices, with the price of Brent Crude rising 83 cents to $113.28 on Tuesday.
In New York, UN Secretary General Ban Ki-Moon met with Nigeria's Foreign Minister Olugbenga Ashiru to discuss the current troubles in Nigeria, and the regional rise of violent militant groups.
---