Porters are unheralded heroes of Africa's Mt. Kilimanjaro
For every foreigner who climbs Africa's Mt. Kilimanjaro, at least three Tanzanians swarm up the volcanic slope as porters, carrying 50-pound bags on their heads. Their one complaint: low pay.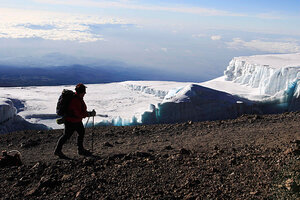 Darrin Zammit Lupi/Reuters/File
Up from the equatorial plains they climb, into a dripping rain forest, through a shrub-riddled wasteland and across a desolate alpine desert before finally making a nighttime trudge up the lonely ice-capped crater that's Africa's tallest peak.
Every year, some 50,000 or so adventurous foreigners brave the oxygen-starved air atop Mount Kilimanjaro for the stunning dawn view of the hazy shapes and shadows from which they emerged just days before.
The tourists, however, aren't the only ones who make the journey. In fact, the foreigners are vastly outnumbered. For every foreigner who climbs Kilimanjaro, at least three Tanzanians, and often many more, swarm up the volcanic slope like worker ants, 50-pound bags perched precariously on their heads and baggy shirts flopping over their skinny frames.
For the world's restless travelers, the allure of Kilimanjaro is clear: It's the world's highest free-standing mountain, yet ascending it requires no technical climbing skills, and its icy chill is far more bearable than most comparable altitudes, thanks to Tanzania's tropical location. Middle-aged professionals and 60-something retirees aren't uncommon on its trails.
The flip side of that is that all these amateur hikers need help.
That's where the Tanzanians, with their blistered feet and sore backs, come in.
Kindness of strangers
Each tourist who climbs Mount Kilimanjaro needs at least three porters to labor beside him or her. One route, Marangu, offers huts instead of camping, but even that journey requires two porters per hiker. The more expensive and luxurious tour operators may assign six or more porters for every client.
---