ICC charges Kenyan leaders for post-election violence
The International Criminal Court at The Hague confirms charges against senior Kenyan politicians and a radio journalist for crimes against humanity.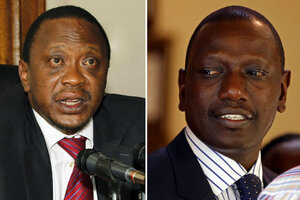 Thomas Mukoya/Goran Tomasevic/REUTERS
The International Criminal Court has sent a signal that there are consequences for political leaders who use violence to achieve political goals by confirming charges of crimes against humanity against four prominent Kenyans.
Whether this changes the political landscape, ends the culture of impunity, or prevents future violence in Kenya, is a matter for Kenyans themselves to decide.
In its decision, announced from the Hague today, the ICC confirmed charges of crimes against humanity first laid in Dec. 2010 against four men for their alleged role in organizing mass violence following the 2007 presidential elections.
The charged are former Higher Education Minister William Ruto, former Finance Minister Uhuru Kenyatta, former civil service chief Francis Muthaura, and radio talk show host Joshua arap Sang. Charges were dropped against two others: former Kenyan police commissioner Hussein Ali and parliamentarian Henry Kosgey.
The four men are accused of organizing mass violence following the disputed presidential elections of Dec. 27, 2007, in which President Mwai Kibaki was declared the winner. Senior leaders of both main parties, the president's Party of National Unity and the opposition Orange Democratic Movement, are accused of stirring up ethnic violence for political advantage and retribution. At least 1,200 people were killed and 600,000 displaced from their homes.
Human rights activists and observers hailed the decision.
---