Victims of Kenya violence shrug at ICC effort
Putting four senior leaders on trial at the Hague is not enough, say victims of the 2007-2008 wave of murder and arson in Kenya. The machete-swinging thugs who carried out the murders still walk free.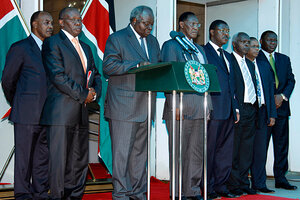 Kenyan Presidential Press Services/AP
By the time the men with the machetes marched onto Joyce Muhito's farm on New Year's Day four years ago, she had already fled.
Given less than an hour's notice that the gang was coming, she grabbed what she could carry and ran, with her two youngest children, to sanctuary at a church a terrifying two hours away.
Today, Ms. Muhito squats under a tent of white plastic sheeting on land donated by a wellwisher, in a camp close to Nakuru town, where some of the worst violence took place. She is one of more than 600,000 people forced to flee as Kenya's post-election violence swept some of its most fertile areas following its presidential polls in December 2007. More than 1,200 died.
Until yesterday, when four leading Kenyans including its deputy prime minister and the head of its civil service learned they would face the International Criminal Court, no one had been called to account for what happened.
In fact, no senior figure has ever faced trial for election-linked violence in Kenya, whether in 2007-08 or at any of the four previous polls stretching back to the end of one-partyism in 1992.
"This ruling will bring justice, it will bring justice where Kenya's own system could not," said Muhito, her head shaded from the fierce noonday sun by a simple brown headscarf.
Justice for the poorest
As news of yesterday's ICC ruling sank in, there was much talk of an end to the era of impunity for Kenya's powerful political elite, regularly accused of corrupting the judicial system to shield them from ever appearing in a dock.
---