American, Dane rescued by US commandos inside Somalia
Members of Navy SEAL Team 6, the unit that killed Osama bin Laden, rescued the hostages from pirates inside Somalia.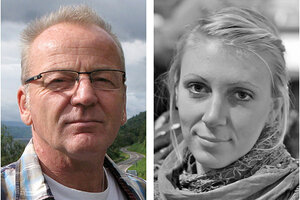 Danish Refugee Council/AP
Teams of Navy SEALs in helicopters staged an unprecedented night-time raid deep into Somalia's pirate heartlands to free an American aid worker and her Danish colleague held hostage since October.
It was the first time in almost two decades – officially at least – that American boots landed on Somali soil, in an operation personally ordered by President Obama, who warned Wednesday he would "not tolerate the abduction" of Americans abroad.
The hostages, Jessica Buchanan, 32, from Virginia, and Poul Thisted, 60, from Denmark, were rescued unharmed despite reports of an hour-long gunbattle once the US troops were on the ground.
Their rescue was undertaken by the same SEAL unit that executed the Osama bin Laden operation, two US officials told the Associated Press on condition of anonymity. That unit is called the Naval Special Warfare Development Group, and is also known as the SEAL Team 6. The SEAL team 6 members who carried out the Somalia rescue operation were not the same individuals who killed bin Laden, the sources said.
---