Hostage rescue: Will US intervene more in Somalia?
The US military has largely left East African nations to bring peace to Somalia. But hostage rescue, such as the SEAL operation Tuesday, is a tool the US military is using more often.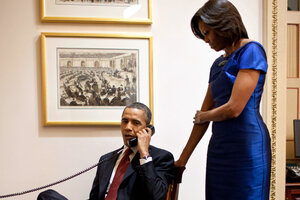 Pete Souza/White House/AP
Now that the US Navy Seals have successfully rescued two hostages – an American and a Dane – from Somali criminal gangs, will the US military begin to increase its presence in the ongoing Somali civil war?
Not likely.
For starters, the US has largely delegated regional security to others. The fight to control Somalia, led by a shaky transitional Somali government and supported by an African Union peacekeeping force, as well as Kenyan and Ethiopian military forces, is primarily an East African affair. In this fight against the radical Al Shabab Islamist militia, the US military plays only a sporadic and peripheral role. Even in the ongoing foreign naval patrols aimed at controlling Somali piracies in the Indian Ocean, the US Navy is just one of many participants in an operation under European Union naval command.
Yet President Obama praised the Special Operations Forces (members of the famed Navy Seal Team 6), and said that commando operations sent a strong message to kidnappers like Somali pirates.
---