Rebranding 'Hotel Rwanda' into tourist destination
Eighteen years after a genocide that killed 800,000, symbolized in the movie 'Hotel Rwanda,' major hotel chains are moving in to take advantage of growing tourist business.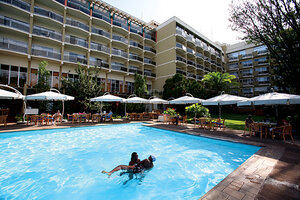 Melanie Stetson Freeman/Staff/File
Rwanda's fast-growing capital seems designed to be a magnet for foreign companies, offering shiny new office towers, gourmet coffee shops, and manicured medians dividing the newly paved roads.
Yet ever since genocide swept Rwanda in 1994 – killing at least 800,000 in just 100 days – global brands have stayed away.
That is, until now.
Thanks to bold economic reform that has made Rwanda a leader among sub-Saharan countries, two global hotel chains will soon open new luxury properties in the heart of Kigali: a five-star Marriott Hotel and a four-star Radisson Blu Hotel and Convention Center built by the Brussels-based Rezidor Group.
For Rwanda's leaders, the arrival of universally recognizable brands represents much more than the money those companies bring in. It's a stamp of approval that officials here hope will resonate with would-be visitors and investors abroad, sending the message that Rwanda has indeed moved beyond its violent past and is safe, stable, and open for business.
It also is a step with symbolic and practical implications: practical, because high-end hotels create thousands of well-paid jobs; and symbolic, because it confirms for Rwandans that they have finally arrived.
"It's a vote of confidence," says Rica Rwigamba, head of tourism and conservation at the Rwanda Development Board. "Tourism here has been growing, the number of visitors has been consistently increasing, and now we're diversifying into new markets like business travel and conferences."
---