Senegalese take to streets after president cleared for third election run
Protesters in Dakar and other cities overturned cars and killed one policeman after a high court cleared Senegalese President Abdoulaye Wade to run for a third term in office.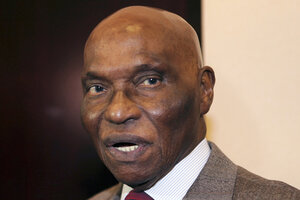 Irada Humbatova/REUTERS/File
The Senegalese capital of Dakar is bracing for protests this week, after the top court cleared Senegal's President Abdoulaye Wade to run for a third presidential term and disqualified several opposition candidates, including world-famous singer Youssou N'Dour.
Protests rocked the capital on Friday, after the court decision's decisions were announced, and pro-opposition protests overturned cars and buses and stoned one policeman to death. Senegalese police have beefed up their security around the presidential palace, but one opposition leader said protesters would make the country "ungovernable."
"Abdoulaye Wade has declared war on the people," Amath Dansakho, the head of the PIT party and member of a broader opposition group called the June 23 Movement (M23), told reporters at a press conference. "The decision that we have just made will prove to Wade that this is a country of free people. We will render the country ungovernable," he was quoted by Reuters news agency as saying.
Critics of Wade say that the Senegalese Constitution does not allow presidents to serve more than two terms in office, but the 85-year-old Wade says he took office before the 2001 term-limit law had taken effect. The five members of the Constitutional Court, all chosen personally by Wade, agreed with the president. No legal channels are now left for opposition members to contest Wade's right to run or the disqualification of his rivals.
In explaining its decision, the court ruled that Wade – who was first elected president in 2000 – had actually served only one term since the 2001 Constitution was enacted.
---