African Union summit: disunity on display
With the leadership of the African Union in question, old powers like France and new powers like China are vying for influence. Will peacekeeping missions and conflict resolution efforts suffer?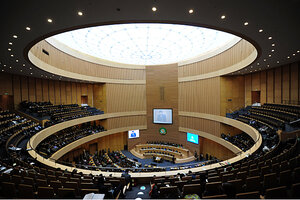 Ding Haitao/Xinhua/AP
For sheer murkiness, the African Union is in a world of its own.
Established back in 2002 to replace the older, less-organized Organization of African Unity, the African Union has ambitions of creating a common policy front so that 54 different African countries can confront what they see as an exploitative and richer world with one voice. It's an ambition deeply rooted in the Pan-Africanist movement of Kwame Nkrumah and Julius Nyerere and Leopold Senghor, who wanted to do away with colonial borders and build on the common features and strengths of Africa culture to form a single African nation. But it's an ambition wrapped in profound distrust of other countries who would take advantage of Africa and its disunity.
Today, at the end of its 18th assembly of African leaders in Addis Ababa, Ethiopia, the AU is an organization that has begun to put action behind its words. It sends peacekeeping missions to the Darfur region of Sudan and to support the tottering transitional government in Somalia. Its leaders jet off to growing conflict zones such as post-election Ivory Coast and pre-war Libya and attempt to achieve peace through negotiation, with varying success. But is it any closer to creating a single voice on matters that affect all African states?
---