Somalia: For once, some optimism
The UN beefs up an African Union-led peacekeeper mission and Ethiopian troops take the town of Baidoa, as delegates at a London conference contemplate the future of Somalia.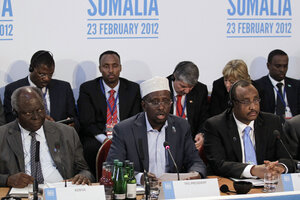 Matt Dunham/REUTERS
Somalia hasn't had this much attention since the early 1990s.
At the United Nations, the Security Council voted to add an additional 5,700 peacekeepers to the African Union's mission in Somalia (AMISOM). In London, a British-sponsored conference of world powers this week is debating just how to end the 20-year cycle of civil war in Somalia and to create a sustainable peace. Aid groups have launched massive ad campaigns to secure funds for what has been the worst famine in the Horn of Africa for some 20 years. And on the ground in Somalia itself, African Union peacekeepers and the armed forces of neighboring countries are pushing back an Al Qaeda-linked group, Al Shabab, that has dominated south-central Somalia for the past four years.
It's a major shift from 1992, when the US intervened in Somalia to secure food aid deliveries after a crushing civil war, and then promptly withdrew after finding themselves caught in the cross-fire between feuding warlords. Remember all those battle-scenes from the movie "Black Hawk Down?" US military planners sure do, and the following two decades of US foreign policy toward Somalia was marked mainly by neglect.
---