South African ruling party expels Malema, but what's next?
Julius Malema, outspoken leader of the ANC Youth League, was expelled Wednesday for creating division within party. But ANC still faces challenge of appealing to youths.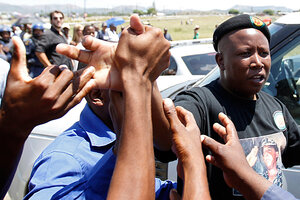 Siphiwe Sibeko/Reuters
Boston; and Johannesburg, South Africa
South Africa's ruling party, the African National Congress, has sent its outspoken youth leader packing.
Julius Malema, who has dominated headlines since becoming head of the ANC's Youth League in late 2007, was formally expelled from the ANC on Wednesday night for sowing divisions within the party and for advocating the overthrow of the government of Botswana. Two other senior ANCYL leaders, spokesman Floyd Shivambu and secretary general Sindiso Mangaqa, were suspended from party membership for three years.
Derek Hanekom, chairman of the ANC's National Disciplinary Committee, said the behavior of Mr. Malema and company was "totally unacceptable."
"Having weighed and considered all factors, the NDC found Comrade Julius Malema guilty and is expelled from the ANC," Mr. Hankeom told reporters Wednesday night. Malema will be required to vacate his position as president of the youth league, he added, but Malema has the right to appeal the decision within 14 days.
---