Will new talks between Sudan and South Sudan end oil dispute?
In January, South Sudan cut off oil production, accusing its northern neighbor of stealing its oil. Now the African Union is aiming to settle things down.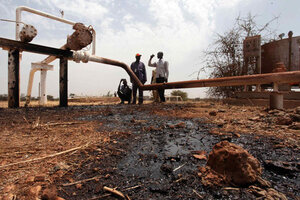 Hereward Holland/REUTERS
Here's how the Sudan peace plan of 2005 was supposed to work: After 22 years of civil war, South Sudan would try to coexist with the Sudanese government in Khartoum, and if that didn't work out, they could secede and form their own country. The South would pump oil, the North would pipe it out to Western markets for a fee, and everyone would be happy.
Here's what happened: South Sudan and Khartoum didn't get along, South Sudan seceded in July 2011, and the two countries have been fighting, rhetorically and militarily through proxies, ever since.
Now, tensions are bringing the two countries perilously close to war. In the northern states of South Kordofan and Blue Nile, rebels once allied with the South have been waging a guerrilla war against Khartoum, and Khartoum has responded with carpet bombing of civilian areas. Ethnic rivalries in the South Sudan states of Jonglei and Unity have broken out into fighting, and tens of thousands have been displaced. The South reports that northern MiG jet fighters have bombed oil fields this past weekend, and refugee camps in the South. In January, South Sudan accused Khartoum of siphoning off Southern oil for its own refineries, and has shut off oil production, pushing both economies to the brink of collapse.
---