Boko Haram: Nigeria's Army kills nine suspects after attack
Nigerian Army kills nine suspected members of the banned Islamist militant group Boko Haram, blamed for the deaths of 1,000 in a three-year long rebellion in northern Nigeria.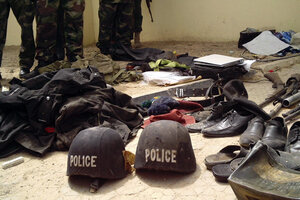 Salisu Rabiu/AP
The Nigerian military's Joint Task Force has killed nine suspected members of the Boko Haram Islamist militant group in the northern Nigerian town of Tudun Wada, about 60 miles from the city of Kano. The suspected militants were killed shortly after they had reportedly used explosive devices in an attempt to destroy Divisional Police headquarters.
The suspected sect members also appear to have used explosives to destroy a nearby bank, but police officials say that the militants failed to take away the money inside. All the bank's money appears to have remained intact.
Wednesday's attack follows a shooting attack on Tuesday in the Sharada section of Kano, where gunmen on a motorcycle shot into a crowd, killing at least three people. Boko Haram is blamed for the deaths of more than 1,000 people since its armed rebellion began in 2009. Boko Haram, whose name means "Western education is a sin," claims to be fighting to overthrow the secular government of Nigeria, seeking instead a nationwide application of traditional Islamic sharia law. Yet some analysts believe that the rebellion is primarily aimed at a corrupt Muslim elite of politicians who use their power for their own enrichment, rather than for the improvement of the relatively impoverished areas of the north.
---