Zimbabwe activists sentenced for watching Arab Spring video
Found guilty for conspiracy to commit violence, six Zimbabwe activists are given fines and community service. Opposition members see beginning of crackdown ahead of elections.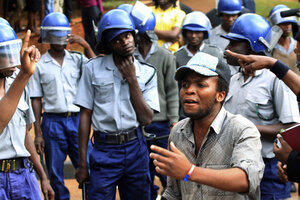 Philimon Bulawayo/AP
Six Zimbabwe political activists, threatened with prison for watching a video of the Arab Spring in Egypt last year, have been found guilty, but will be fined $500 each and forced to perform 420 hours of community service.
Initially charged with treason, activist Munyaradzi Gwisai and five other socialist activists could face the death penalty, but the charges were later dropped for conspiracy to commit violence. The February 2011 arrests came at a time when North African protesters had toppled two dictators, Egyptian President Hosni Mubarak and Tunisian President Zine el Abidine Ben Ali, and had set their sites on a third, Libyan strongman Muammar Qaddafi. Arresting the Zimbabwean activists was seen by many as a strong signal that an Arab Spring-style movement would not be tolerated in Zimbabwe.
President Mugabe and his ZANU-PF party have ruled Zimbabwe since the end of the white-minority rule of Prime Minister Ian Smith in 1980.
Speaking outside the courthouse on Monday, Gwisai called the guilty verdict "meaningless" and "outright silly," and said that his arrest was simply another example of "political harassment by the state."
---