Youth discontent drives vote to oust Senegal's president
Despite President Wade's achievements in fixing infrastructure, high unemployment and rising prices spur frustration among Senegal's youthful majority.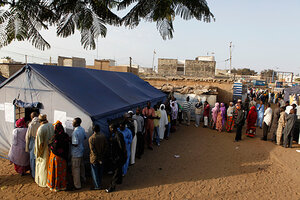 Rebecca Blackwell/AP
Young Senegalese celebrated the decision by President Aboulaye Wade to peacefully concede defeat Sunday night in the country's presidential elections.
Thousands gathered outside the campaign headquarters of the victorious candidate Macky Sall, dancing to the hip-hop opposition anthem "Gorgui, Na Dem" – which means "old man, step down" in Wolof, the predominant local language. Mr. Wade is 85 to Mr. Sall's 50. The crowd, meanwhile, was mostly young, reflecting a nation where 75 percent of the population is under 35.
"Today, we are proud to be Senegalese," says 18-year-old Alpha Ba. "We, the young people, want to work and reduce the high cost of living for our mothers and all of Senegal."
Mr. Ba strikes a common chord. Along with Wade's age and his violation of a two-term limit, the steadily-rising cost of living in Senegal was the primary grievance of a youthful opposition movement that says Wade's priorities were out of touch with the population. While the president said he needed three more years to finish his grand infrastructure projects, Sall ran on a populist promise to reduce the cost of basic goods like rice, utilities, and gas. With youth unemployment at around 50 percent, that stuck a chord with the electorate.
Yet Wade's supporters are quick to point out his achievements.
---