Boston Marathon: The village in Kenya where the elite train
Some Boston marathoners today will have trained at 8,000 feet above sea level in the Kenyan village of Iten. The big money in the sport has attracted younger athletes here.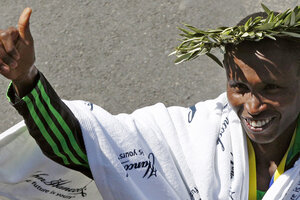 Charles Krupa/AP/File
Up here, 8,000 feet up, the air has always been short of oxygen, and Kenyans have always run fast. Records and medals have gone again and again to athletes who honed speed and endurance on the dirt trails around Iten, this small town on the edge of an escarpment 210 miles north of Nairobi.
But in recent years a revolution here has molded Kenyan runners' already punishing training into something altogether more crafted, professional, and potent.
The product of this new paradigm was seen in last year's Boston Marathon, when Geoffrey Mutai tore through the finish ribbon in a time few thought possible: 2:03:02 (two hours, three minutes, and two seconds). Moses Mosop, a fellow Kenyan, was four seconds behind him.
These blistering times were almost a full minute faster than the then world record (although Boston's times don't officially count because the course is point-to-point, too downhill, and Mr. Mutai and Mr. Mosop had a fair tailwind).
Nevertheless, by the end of 2011, Kenyans had run 29 of the year's 30 fastest globally certified marathon times, and nine of those times were faster than the world record as it stood less than a decade earlier. Patrick Makau bettered the existing world record, Ethiopian Haile Gebreselassie's 2:03:59, by almost a third of a minute in Berlin, followed closely by Wilson Kipsang in Frankfurt.
The reasons for this sudden acceleration, according to coaches and athletes who spoke to the Monitor in Itan during a recent week, are two-fold, and they are linked: youth and money.
---