Bishop Tutu urges peace in upcoming Lesotho elections
Political violence has flared ahead of May 26 Lesotho elections, but Archbishop Desmond Tutu urges candidates to keep the peace and respect election results.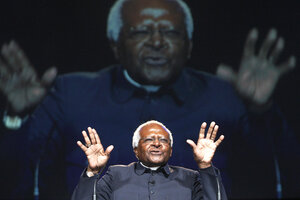 Sang Tan/AP/File
Archbishop Desmond Tutu, the legendary anti-Apartheid activist and Nobel laureate, is officially retired from public life.
But he made an exception Friday for the tiny mountain kingdom of Lesotho.
Political violence in the enclave encircled by South Africa has flared up ahead of May 26 elections – an ominous sign in what one analyst calls the latest "stress test" for democracy in sub-Saharan Africa. Cracks have emerged here with high-profile assassinations, rumors of a "hit squad," and clashes at campaign rallies.
So the United Nations invited Archbishop Tutu to bolster democracy in the land, where, before launching his crusade against Apartheid next door, he served his first bishopric from 1976-78. On Friday, his "prayer meeting" extracted a pledge among political rivals to keep the peace and respect election results.
Think you know Africa? Take our quiz
Citing the past political violence of South Africa, Tutu urged an audience that included the prime minister of Lesotho, "Please, please, please, please do not let the same happen to this stunningly beautiful land. Nothing can be so precious that it can be bought with innocent lives."
---