Amid battles, Boko Haram offers dialogue with Nigerian president
A caller claiming to speak for the Islamist militant group Boko Haram called a local TV station on Sunday demanding 'one on one' dialogue with Nigerian President Goodluck Jonathan.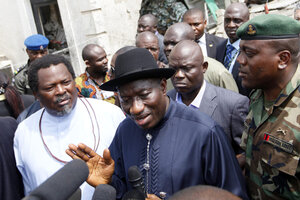 Afolabi Sotunde/REUTERS
The Islamist extremist group Boko Haram, which has killed thousands in the past three years, has for the second time offered to begin dialogue with the Nigerian President Goodluck Jonathan.
The offer came via a phone call to a Nigerian television station, AIT, on Sunday. The caller claimed to be a spokesman for the group that calls itself Jama'atu Ahlis Sunna Lidda'awati Wal-Jihad, better known by local Nigerians for their slogan "Boko Haram," which means "Western education is a sin."
"We want Dr. Jonathan one on one," the caller said on AIT television. "No police, no nothing. And if he doesn't address us in the next 78 hours, we are going to strike, and this time around, we are coming to Abuja and Lagos. We are not hiding it; we are going to see to it."
It was impossible to verify if the caller was in fact a member of Boko Haram, and indeed for which faction of Boko Haram the caller may belong to, following reported splits within the secretive organization. But while the president himself has remained silent about the offer of dialogue, members of his cabinet have suggested in the past few days that the Nigerian government would be open to the idea of talking.
Namadi Sambo, the Nigerian vice president, confirmed to reporters this weekend that dialogue remains the best option for solving the lingering crises in the country and appealed to all Nigerians to embrace peace.
---