American jihadi in Somalia writes an autobiography
Omar Hammami, an American jihadist from Alabama, wrote a 127-page book about his experience fighting on the front lines with Somalia's Al Qaeda affiliate, Al Shabab.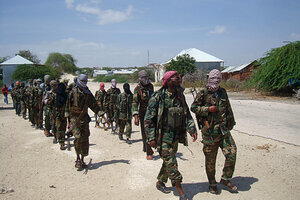 AP/File
Insights into the minds of Westerners who have traveled to faraway lands to join the armies of radical Islam are usually confined to esoteric security websites and jihadist blogs rarely written in English.
But an eye-opening, eyebrow-raising, 127-page document just uploaded to the internet gives a unique glimpse into the motivations of the increasing numbers of young men now fighting in the ranks of Somalia's Al Qaeda affiliate, Al Shabab.
"The Story of An American Jihadi: Part One" is the autobiography of Abu Mansur al-Amriki, a 28-year-old Al Shabab commander who was, in an earlier life, a popular school soccer player, star student, and baptized Christian from Daphne, Ala., called Omar Hammami. In the book, Mr. Hammami talks of his "privileged" upbringing, his turn to Islam, his journey to Somalia, and his time training with some of America's most wanted Islamist terrorists.
He also writes of how he misses "Chinese food, hot wings, Nestle ice cream, and gourmet coffee," but that his motivation to fight for Islam means he knows that he will be "a fugitive for the rest of my life."
---