Somalia, African Union forces attack Islamist-held camp
The effort is to push the Islamist militia Al Shabab further away from the outskirts of Somalia's capital, Mogadishu, but aid workers worry that displaced civilians in Afgoye camp may get caught in crossfire.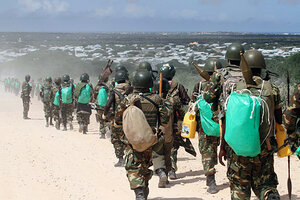 Feisal Omar/Reuters
A major offensive aimed at clearing Somalia's Al Qaeda-allied Islamist army from the world's largest camp for displaced people began Tuesday, amid fears that civilians could end up in the firing line.
Columns of Somali National Army troops with African Union peacekeepers launched the attack soon after sunrise along a major road heading northwest from Mogadishu, the Somali capital.
Their aim, the AU's most senior official in Somalia said, was to "build security" so that the 400,000 people squatting on Islamist-controlled territory outside the city would find it easier to be reached by aid agencies. The area, known as the Afgoye corridor, remains under the rule of Al Shabab, a radicalized fighting force bent on routing Somalia's Western-backed government and ruling the country according to a strict interpretation of Islamic law.
Al Shabab has banned most international aid groups from working in its territory, despite the ongoing effects of last year's famine and threats of further severe hunger after failed crops this year.
"The Afgoye corridor holds one of the biggest concentrations of internally displaced people in the world," said Wafula Wamunyinyi, who heads the AU peacekeeping mission in Somalia, known as AMISOM. "We are helping them by building security so that they can share in the economic revival of the capital. They will now be able to access humanitarian services and eventually return to their original homes in Mogadishu."
---