Rebel alliances strengthen in Mali's north, rattling neighboring countries
The northern two-thirds of Mali is now under control of Tuareg and Islamist rebels who want to redraw national boundaries and export revolution. Displaced minorities tell of brutality.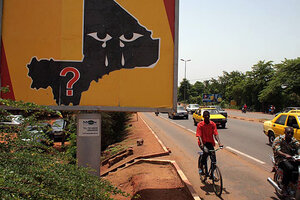 Derek Henry Flood
Here in Mali's capital city, after a military coup, it's not entirely clear who is in charge.
Mali's elected president, Amadou Toumani Toure, has been thrown out of power by mid-ranking officers. Those officers have put in place a politician, Dioncounda Traore, who was promptly beaten by civilian protesters in his own palace and is now seeking medical treatment in France. The coup leaders, in the meantime, have promised to hand over power to a civilian government once elections have been held, although they have not given a timeline yet.
Up north, however, there is no question who is in charge.
With the May 26 announcement of an independent state of Azawad, two rebel groups -- the salafist group Ansar Eddine, and the ethnic Tuareg group known as the National Movement for the Liberation of Azawad -- Mali's three vast regions of Timbuktu, Kidal, and Gao, are now effectively out of Bamako's reach. And while many experts had predicted the philosophies of these two groups would keep them at odds -- Ansar seeks a theocracy based on Islamic sharia law, while the MNLA seeks an independent state for ethnic Tuaregs -- there is little sign of competition, and many signs of consolidation.
---