Wanted in Somalia: US puts bounties on top Al Shabab leaders
While multimillion-dollar bounties may not lead to the imminent capture of Al Shabab leaders in Somalia, such rewards do ensure there will be no 'soft landing' for terrorist suspects.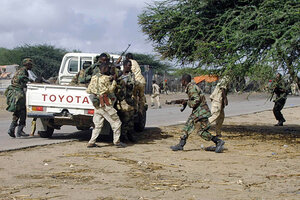 Farah Abdi Warsameh/AP
Seven of Somalia's most senior Islamist commanders were for the first time Thursday added to the State Department's list of terrorists with multi-million dollar bounties on their heads.
A total of $33 million could be paid out for information leading to the capture of the men, all members of the country's Al Shabab terror group, which is linked to Al Qaeda.
They will join Al Qaeda's overall commander, Ayman Al Zawahiri, Taliban leader Mullah Omar, and Hizbullah cell members on the list of people wanted under the US Rewards for Justice program.
It has already paid out more than $100 million to 70 different people who have provided tip-offs that led the US to locate key enemies, including Saddam Hussein's sons Uday and Qusay.
---