Once a stopover, Mali town becomes frontline destination for displaced people
The town of Sévaré sits along Mali's de facto border with a region now controlled by Tuareg separatists. At a camp there, displaced people speak cautiously about why they fled.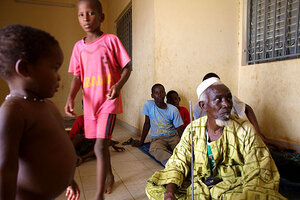 Derek Henry Flood
This crossroads town once at Mali's center has become the country's de facto northern border since Tuareg separatists and Islamist rebels staged an uprising in late March, partitioning off the northern two-thirds of the republic and renaming it Azawad.
Traditionally a stopover for long-distance truck and bus traffic bound for Timbuktu and Gao to the north, Sévaré and the nearby tourist destination of Mopti are becoming a frontline destination, particularly for internally displaced peoples (IDPs) from the rebel-controlled regions of Kidal, Gao, and Timbuktu. Men who made a living by interacting with European adventurers are now queuing up for food staples donated by Western aid agencies. They sit astride a critical new geopolitical fault line where, so far, the international community has failed to take any substantial action.
Some are able to stay with members of their extended family in Mopti Region, while others head south to Bamako in search of more opportunities. Those who can't do either make their homes in canvas tents in a former truck drivers' hostel. Next door is a municipal complex where local functionaries of this rump administration file paperwork under humming fluorescent lights.
The local authorities said they had no knowledge of the state-of-play in Mopti Region, of which they have lost partial control to the National Movement for the Liberation of Azawad (MNLA).
---