Rio+20 sustainability conference: Got toilets?
As more and more people flood into megacities like Lagos, Nigeria, in search of opportunities, sanitation systems are badly strained.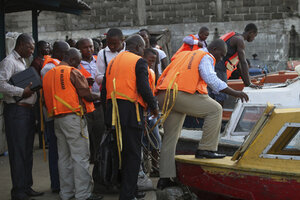 Akintunde Akinleye/REUTERS
The 150 heads of state present at this week's Rio+20 sustainability conference can access running water and flushing toilets when taking breaks between sessions. But that's not the case for the nearly two and a half billion people worldwide without access to toilets – which can impact the health of communities and cleanliness of drinking water – a real obstacle facing growing megacities around the world.
Take Nigerian film star Godfrey Achionye. With his briefcase and pointed animal-print shoes, Mr. Achionye looks every bit like the popular actor he is from Nollywood, Lagos's famous film industry.
But at home, Achionye must share a squat toilet and bucket bath with three other families. To get to work, he navigates sewage-flooded streets in Ajegunle, Lagos's largest slum, which offers all-important proximity to the hectic city's economic opportunities but little in terms of proper shelter and sanitation.
Just crossing the road is hard work. Residents and visitors hop from rock to rock, walk along stubby brick walls, or jump over pools of black water that flow into the streets from open sewers. On one street, residents tired of sinking their shoes in garbage-filled mud made a trail in the road, using thick sponges, plastic bags, and other refuse to create a surface to walk on.
For a neighborhood that several million people call home – no one knows the exact number – Ajegunle remains largely cut off from basic infrastructure, like the running tap water Lagos's elites take for granted.
And yet, Ajegunle is just one of many such slums that 70 percent of Lagos's population, and, indeed, even part of its middle class, call home.
---