Could attacks on Kenyan churches spark violent Christian backlash?
July 1 attacks on Kenyan churches close to Somalia killed 17. Kenya has seen a steady increase in terror attacks attributed to Somali Islamist militants, and some worry that Christians may retaliate against Muslims.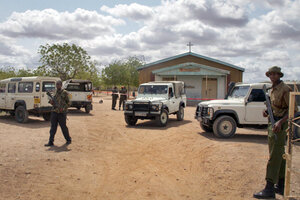 Chris Mann/AP
Almost from the beginning of Kenya's military operation in Somalia, Islamist militants have threatened to bring the war home to Kenyans.
For nine months, those threats have been fairly empty, comprised of a few lone-wolf grenade attacks on Nairobi bars. But with the July 1 attacks on Christian churches in the northeastern Kenyan town of Garissa, close to the Somali border, militants seem to be borrowing a page from Boko Haram, Al Qaeda-linked militants from Nigeria. Like the Boko Haram attacks, which have killed at least 1,000 people since July 2009, attacks on Christian churches have the potential to stir up sectarian conflict in a religiously diverse country like Kenya, where 83 percent of the population is Christian and 11 percent are Muslim.
On paper, Kenya is the stronger country, with a much more powerful economy, a professional Army, and a relatively tolerant and peaceful society that has avoided the self-destructive civil wars of other African countries. But Kenya's very openness – and its porous borders – could be its greatest weakness in a low-intensity conflict with Somali militants, analysts say, and religion could be the spark that ignites a Kenyan conflict within itself.
"There is a religious angle to Kenya's war with Al Shabab," says Dr. Godffrey Ngumi who teaches Religion and Philosophy at Kenyatta University. "The extremists feel they are cornered by an army from a Christian country. Their response is to attack the churches, which for them are weak points. They have not attacked Hindus or Buddhists. When they attack churches, the impact is bigger."
---