Somali rescue operation frees 4 kidnapped foreign aid workers
Somali government troops, together with Kenyan forces, rescued kidnapped foreign aid workers near the Somali town of Afmadow.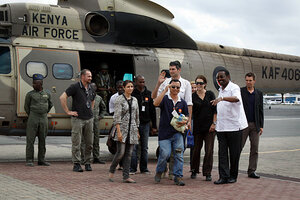 Farah Abdi Warsameh/AP
Somali government troops, together with Kenyan Defense Force soldiers, rescued four foreign aid workers who had been kidnapped from an aid convoy near the world's largest refugee complex at Dadaab, Kenya.
The rescue occurred on Monday morning, following a tip from local Somalis, Somali officials told the Monitor.
Government forces killed two of the kidnappers during a shootout, and captured three other kidnappers during the operation. All of the kidnapped aid workers – a Norwegian, a Pakistani, a Filipino, and a Canadian – were safe after the rescue, although the Pakistani aid worker was receiving treatment at a Kenyan military base for a gunshot would he had received during last week's kidnapping. The injured aid worker has been described to be in stable condition.
Adan Hirsi, a military commander with the Somali Transitional Federal Government (TFG) in Dobley town confirmed that the forces seized the aid workers after fighting in a residence near Afmadow town. Somali and Kenyan forces captured Afmadow from the Islamist Al Shabab militia on May 31, bringing a final assault on Shabab's headquarters in the southern Somali port city of Kismayu one crucial step closer.
"We were on security operations around Afmadow town, as we received secret information about them [the kidnappers]," Mr. Hirsi told the Monitor by telephone. "Some of our forces have seen the kidnappers with a car sitting in small forest place beside a short path, and even seen the foreigners but the gunmen fired on the forces, and after fighting they recued the aid workers."
The Norwegian Refguee Council, where all four aid workers worked, posted a statement on its website:
---