One year on, South Sudan struggles to survive
Feuds over boundaries and oil-pumping fees deprive South Sudan of revenue and bring it close to war with Sudan one year after independence.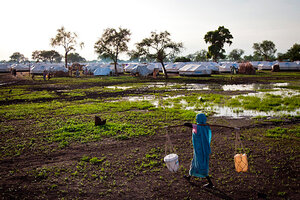 Adriane Ohanesian/Reuters
One year ago, South Sudan became the world's newest nation. Today, it has oil wealth it can't ship to market, impoverished citizens it can't seem to feed or house, and a feud with Khartoum it can't seem to end.
Turning the landlocked but oil rich South Sudan into a functioning country was never going to be easy, of course. But doing so in the midst of an economic dispute with its neighbor and rival, Sudan – a dispute over how much money South Sudan should pay Sudan to pump oil through Sudan's pipelines and out to international markets – has been crushing. If South Sudan was a baby, it has been deprived of nutrition for the first year of its life.
More dangerously, South Sudan and Sudan have come close to launching a full-out war, as Sudanese jets bomb villages inside South Sudanese territory, and as South Sudanese troops invaded to take control, briefly, of Sudan's last giant oil-producing town of Heglig. Both nations claim the Heglig fields and lingering boundary disputes continue to keep these two nations on war footing.
Talks between Sudan and South Sudan resumed Thursday in Addis Ababa, and the United Nations has given the two countries two months to resolve their differences. A previous round of talks ended last week, with no progress.
---