Sudan: 'Arab Spring' protests wane, but activists remain optimistic
Sudanese President Omar al-Bashir has been a 'genius' at cracking down on opposition, activists say. But the government's control may work to its disadvantage, as economic woe continues.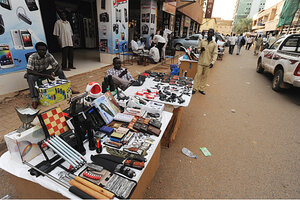 Scott Peterson/Getty Images/The Christian Science Monitor
The test of strength between Sudan's antigovernment protesters and its security forces came in a scalding, dusty expanse around a Khartoum mosque after Friday prayers, below a soaring, brightly colored minaret.
Several hundred Sudanese were ready with banners and slogans decrying the 23-year rule of Sudan's President Omar Hassan al-Bashir, his strict new austerity measures, and the failing economy.
But the July 13 protest was over almost before it even began. Riot police drove forward the moment prayers ended, swinging batons and firing teargas that doused the area and sent Sudanese racing for cover.
Within 15 minutes about 100 police formed a line to block a remaining group from leaving. After 20 minutes, scores of undercover policemen – many wearing the long robes of the Islamic faithful to blend in while they had infiltrated the mosque – departed the area, riding in the open backs of Toyota trucks, their job done.
"See? They are wearing exactly the same clothes as those at prayer. They are praying with them!" said one Sudanese witness, as the undercover security agents drove away. "This regime has no rules – their only thought is how to hold on to power."
As the demonstrations began a month ago on university campuses, and spread in Khartoum and to cities beyond, activists began to dream that an Arab Spring-style revolt had finally made its way to Sudan.
---