A year after freedom, South Sudanese languish up north
Conflict and poverty stand in the way of perhaps 40,000 South Sudanese whose bags were packed a year ago but are now stranded in squatter camps of the north.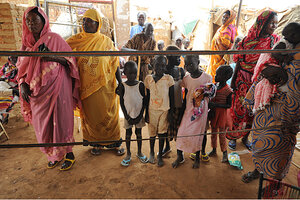 Scott Peterson/The Christian Science Monitor/Getty Images
Clustered in small enclaves on the outskirts of Khartoum, the South Sudanese families had packed all their belongings more than a year ago with high hopes of returning "home," as the newly formed nation of South Sudan was born.
After years and sometimes decades of living in Sudan's northern capital, the families wrapped metal bed frames and bales of clothes in burlap sacking, stacked high their metal chairs, and piled up suitcases in anticipation.
But then time stopped for the 350 households at this "departure point," leaving them stuck in a humanitarian limbo, taunted every day by the mountains of luggage-turned-to-walls of makeshift dwellings.
"We are selling our luggage, chairs, and beds to eat and to drink," says Martha Issa, after stepping from beneath the strung-up blanket that has sheltered her family of seven for more than a year.
"Conditions are very bad, with the mosquitoes and no water," says Ms. Issa, adjusting her head scarf to block the hard rays of a scalding sun. "They told us to come, then we never go to the south – it is up to God."
"People here lost their homes, their jobs – we lost everything," says Makarios Geitano, another member of the dusty encampment. "We just want to go back [to the south]. If we suffer, we must suffer in our own country."
These are among 38,000 people from Sudan's south who remain stuck at such sites, after waiting out the north-south civil wars that frequently tore at the country since the 1950s. Perhaps 1.5 million southern Sudanese have already left the north since peace was agreed to in 2005; no one knows how many for sure. More than 400,000 of those have left since the south voted for separation in January 2011. But those still in Khartoum who want go south languish in squalid encampments dotted on the outskirts of the capital – like this one to the east, called Dar Es Salaam – with no running water and primitive facilities, if any.
---